Thanks to isaac hiew @ AHS Forum who has given the permission of me to post his translation of ViVi Deji Deji Diary Vol. 98 Dec 2008 :)
I think it's better for you guys to read the translation and see the magscans of ViVi Deji Deji Diary vol. 98 in order to understand~

Here are the magscans for vol. 98:
Click the pictures for bigger version!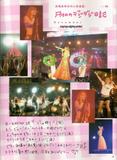 Credit: taylayu @ Ayunite Forum

[First Page, Ayu's handwriting]

What welcomed a-nation '08 was actually a very heavy rain!! (Laughs)

It was really raining cats and dogs which damaged two of Yocchan's guitars (tears) and another three more video cameras (tears)

But then from a certain perspective, we are the very ones who got drenched throughly ^_^v  

I'm kind of thankful to experience another lovely summer worthy for my memories.


[Page 2, Top]

The elderly gets to move around in those shuttles
For you youngsters, just stretch your legs and tab along.

[left]

Arrived at Hong Kong and caused a big mess (laughs)
I really do appreciate the fact that everybody(minna-san) welcomed me everytime I came here 

But looks like armageddon's existence grabbed all the attention.
Next one coming up is the shooting of the 2009 calendar~!!

[right]

Both me and armageddon waiting for the crew members.
There's a cute duuty-free store in the middle. (laughs)

[bottom left]

We had to take the helicopter to Macau...
I was terrified throughout the journey while the other giggled along...
I really was scared...

[bottom]

Me posing in front of the neon lights in front of a Macau casino during the shoot...

Isn't my hairstyle kawaii?

[Left, magenta bubble]

Ayu's news on this month

* The calendar of 2009 mentioned in this issue of ViVi can now be pre-ordered at teamayu's homepage! Meanwhile, it will be on sale at "mu-mo" store starting 1st Oct 2008 onwards!

* Single Best Album [A complete ~All Singles~] Now on sale!


[Page 3, Top]

Okei, thank you for taking the trouble of adding these heart-shaped accessories one by one onto the umbrella.

I love this set of kimono made by Akira for me!!

[Below Top]

What's wrong with him? This dude on the right gets high without reason. (laughs)


[left]

Today we are shooting this part of the footage at the beautiful Macao National Park.

The flower on my cute hairstyle was taken from my room's decorations by Takahashi-san.

He is really something!! (laughs)

[lower right]

These nail art are cool huh. But it looks the hair of the chief or something...

[lower left]

The nail artist had broke the limits of nail art which made my hands blossoming with flowers just like my nails did.

[Bottom left]

Everybody (minna-san) always wait for me in front of my hotel.
I would try my my best to give out autographs as long as time permits!!

[Bottom right]

This ball dress is also the handiwork of Akira

You guys will have to see it in the calendar

The hairstyle and make-up were great too~ 

[Page 4, top]

This dress wasn't picked by Shimoco but by the daring "mii-chan"

[left]

Returned to Hong Kong from Macau...

I must be ganbatte for the rest of the week~

What on earth was Stan-chan holding anyway?

[middle]

The final day of the schedule!
Here I am on the top of the double-decker bus in my favorite rocker look.

By the way, my ifestyle was actually kind of like a rocker. (That's what my mum said)

[Lower right 1]

It's getting crowdier below

even the evening news is covering my shooting...

Wow.

[Lower right 2]

Everyone gave applause after I have done the last scene.

That's what I call a truly busy Hong Kong night with all the hustle-bustle.

[Bottom right]

everyone, cheers (kampai) !!
The crew memberswere really having a good time, yeah

Please support the calendar alright 

[bottom]

me at the dinner party

Actually, the dress was quite heavy (laughs)

But I tried on it since it was cute~~~

The sunglasses are from PUCCI's though~~ 

Translated by isaac hiew
Translated from ViVi Dec 2008 International Chinese Edition
Page 20~23
28/1/2009