Team Ayu Official Site has changed its layout to Party Queen 13th Album theme!
It looks great! Just that I actually wish to see new picture out from the 3 covers of the album.
But cool layout anyway!
Click the pictures for larger version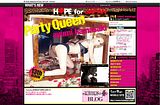 Original source: Team Ayu
Shared by
Ayu's Story
Take out with full credits!