POWER of MUSIC blog. 9/8/2011. "Fukuoka a-nation ☆"
Summer's large outdoor music event, a-nation for Life 10th Anniversary,
following the Ehime show, has concluded well for all artists
at Fukuoka's Uminonakamichi Seaside Park!!!
Not losing out to the slowly increasing temperatures, the audience were energetic till the very end ☆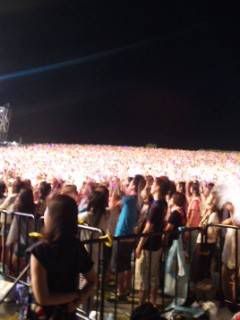 More under the cut!
↑↑ The white lights in the background are a~ll audience as well.

For all those coming down to the shows at Nagoya, Osaka and Tokyo,

please take care not to fall to heat stroke or dehydration <(_ _)>

So, on to our A Troupe…

After finishing off the show with MAX energy, we shifted elsewhere

to have a great BBQ with everyone ♪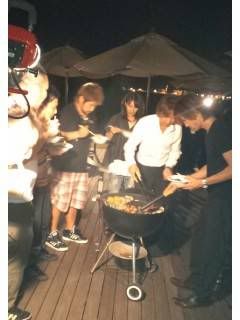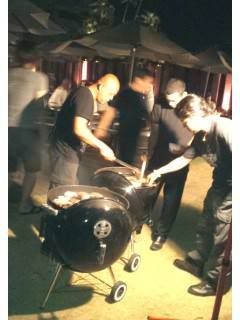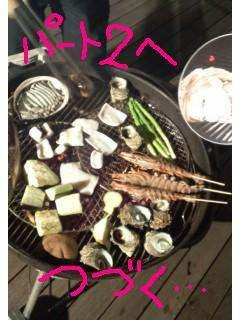 Caption: TBC with Part 2…

A STAFF Minazou



POWER of MUSIC blog. 9/8/2011. "Fukuoka a-nation ☆ Part 2″



Wonderful wonderful BBQ time ♪ continues…

A photo of "Maro-san, stoke the fire".





As usual, everyone joined in with an "Ichi ichi". (laugh)

GO-MI-san, showing us for one moment the awesome abs of a staff who came to help us with the BBQ.




For some reason, standing next to KO-kun and EMI-san gives us a very L.A. kinda feeling. (laugh)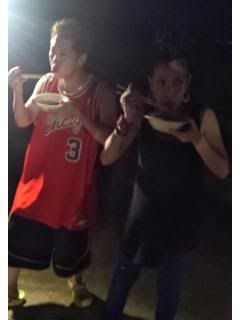 Tour manager Koichi-san, AKI-san & AAA's Urata-kun ☆




And then,

Welcome back, SUBARU-san!!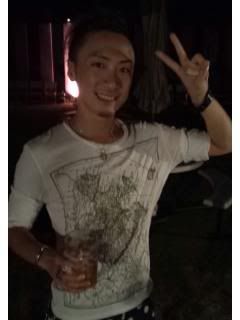 His super smile is still going strong ☆

Welcome back, 2-YAN!!




This is another summer boy!!! He's so tanned, we can't tell his expression. (laugh)

Welcome back, SATORU & TOMOKI-kun!!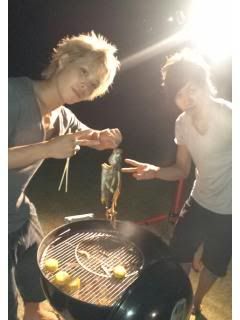 Please dance with all your feelings and touch the audience ♪

Welcome back, YOSSY-san!!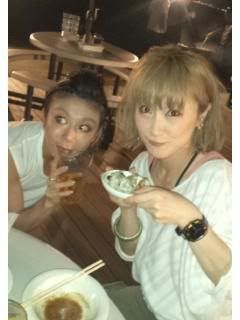 Though YOSSY-san is normally modest and quiet, she shows us really powerful performances when on stage!!

With delicious BBQ and happy times, we cultivated strength

and as A Troupe, we promised to bring the best performance to everyone

at this weekend's show at outdoor venue Port Messe Nagoya (★ゝω・)b⌒☆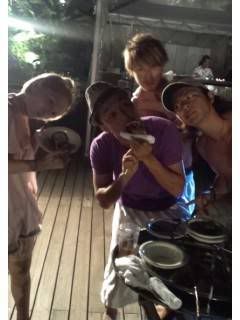 A STAFF Minazou

Credit & Translation: misachanjpop @ wordpress
Original source: POWER of MUSIC Official Blog
Shared by Ayu's Story
Take out with full credits!